2019 INFINITI QX60 HAS EXCITING VARIETY OF INNOVATIVE FEATURES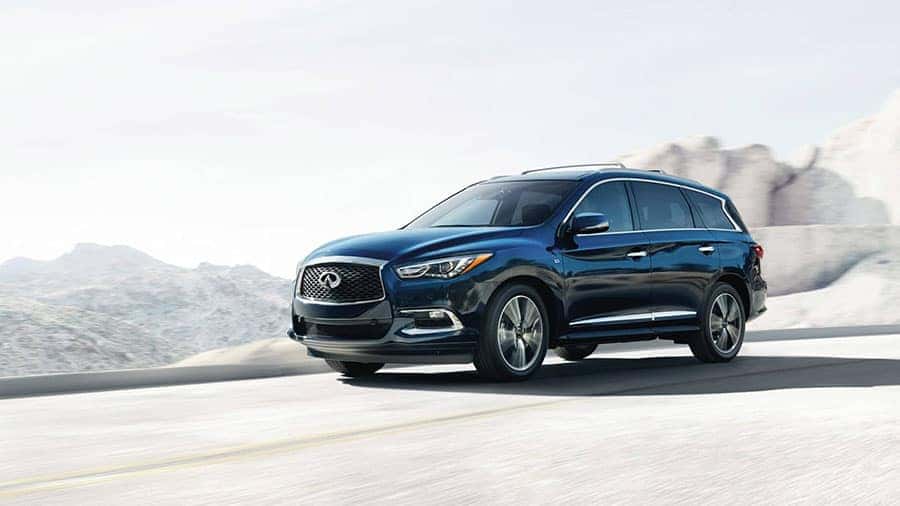 The 2019 INFINITI QX60 offers the perfect blend of stylish design, luxurious materials, and comfort features. You can expect the best of innovative technology in this amazing crossover SUV. Safety features are highlighted on the INFINITI QX60 as either standard or available features.
The 2019 INFINITI QX60 Around View Monitor (AVM), raises your awareness when you park. With this system, you can see more clearly while maneuvering, even in small spaces. With the Moving Object Detector (MOD), you are alerted if something enters the area around your vehicle. The Rear Collision Prevention System (BCI) system aims to help you avoid a collision. When backing, the system can detect what could be beyond your line of sight, detecting if an object is behind your vehicle, and using the brakes automatically if an impact is imminent.
The INFINITI Advanced Air Bag System (AABS) adjusts the inflation speed of the airbags. That means it adjusts depending on the severity of the impact and the force against the seat belts. The Frontal Collision Emergency Prediction and Braking System warns the driver with visual and auditory cues if there is risk of a collision ahead. It even alerts if vehicles further ahead change speed. The INFINITI QX60's Blind Sport Warning and Intervention System has sensors that detect when someone enters your blind spot. If you begin to change lanes into an occupied lane, the system will give you a brief warning or apply slight braking that will take you back to your lane.
This luxury crossover also has Frontal Collision Emergency Braking with Pedestrian Detection available. This system has sensors that watch for potential issue in the vehicle's path. If an issue is detected, the accelerator pedal is pushed up and the brakes are applied to help minimize or prevent a possible collision.
Driving can be unpredictable so when weather and road conditions change, your vehicle needs to be ready to handle it. The Intelligent Traction (AWD) responds by sending from zero to 50% power to the rear wheels. So, you get four-wheel drive when you need it, and the efficiency of a front-wheel drive when you do not.
Visit Mike Ward INFINITI near Denver to take a test drive of the 2019 INFINITI QX60 today!