2021 INFINITI QX50 vs 2021 BMW X3 SUV Near Denver, Colorado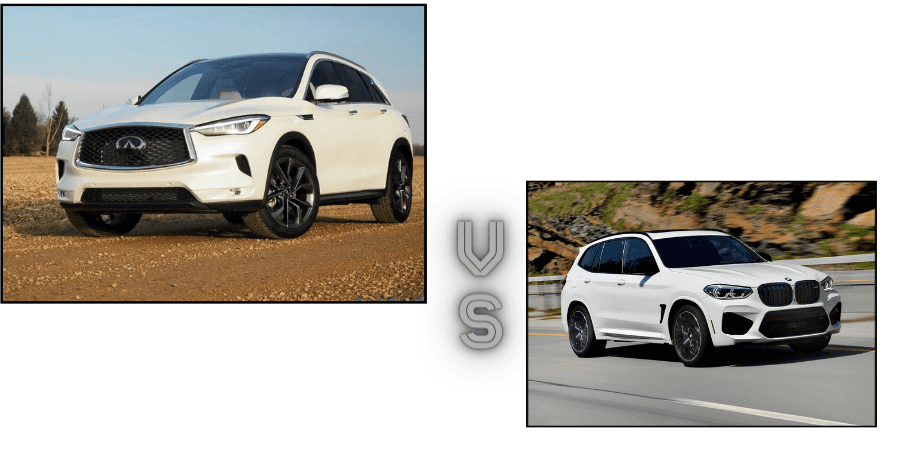 2021 INFINITI QX50 vs. 2021 BMW X3
A deluxe interior and superior performance are what drivers look for when shopping for a luxury crossover SUV. Fortunately for them, the 2021 INFINITI QX50 has both of these elements at a cost-effective price. The amount of value that drivers of the QX50 get for their purchase is incredible, as they will be getting comparable or even superior components to the crossover SUV's more expensive competition. Take the 2021 BMW X3, for example. The INFINITI QX50 has everything today's Denver Metro driver could want in a luxury crossover and more for less than the 2021 X3.  
Performance
Powered by innovative VC-Turbo compression technology, the four-cylinder engine equipped to every 2021 INFINITI QX50 crossover exceeds the performance of the base turbocharged four-cylinder engine in the 2021 BMW X3. The INFINITI QX50 generates 268 horsepower with a satisfying punch with every press of the accelerator, while the 2021 BMW X3 can only manage 248 horsepower. When tackling more uneven road conditions, passengers of the QX50 will barely notice as the crossover effortlessly handles the bumps to create a smooth ride inside. Precise handling is also a trademark of the 2021 QX50, so every input from the driver makes a difference.  
Interior
Features
Inside the 2021 INFINITI QX50, passengers get a real sense of what upscale cruising feels like. The dual display of the QX50's infotainment system promotes easy usage and navigation of the various menus for both convenience and entertainment applications. Two features drivers of the 2021 INFINITI QX50 can appreciate in every model of the crossover include Apple CarPlay and Android Auto. Both the INFINITI QX50 and 2021 BMW X3 have integrated Wi-Fi® hotspots for consistent connectivity to the Internet for any mobile device passengers use. The QX50 is also the preferred choice for customers looking to use their crossover to haul cargo, with the QX50 having more interior space than the BMX X3.  
Safety Features
Both the 2021 INFINITI QX50 and the 2021 BMX X3 excel in providing plenty of technologically advanced safety features to keep them ahead of the luxury crossover market. Features such as Automated Emergency Braking with added Forward-Collision Warning come standard on both vehicles. A piece of safety technology that the QX50 has which the X3 lacks is the Rear Cross-Traffic Alert system, which adds another level of alerts for drivers to respond to.  
Experience the 2021 INFINITI QX50 in Colorado
Drivers who choose the 2021 INFINITI QX50 over the 2021 BMW X3 will get a more powerful crossover SUV with comparable interior features for a better value. This makes the QX50 ideal for those discerning customers who want to maximize every dollar of their new vehicle purchase. If this sounds like your ideal crossover to drive, stop by Mike Ward INFINITI in Highlands Ranch, CO today. Our outstanding customer satisfaction ratings make us the premier destination in the Denver Metro area for purchasing or leasing a new luxury vehicle, like the 2021 QX50.     
 

2021

INFINITI QX50

 

2021

BMW X3

 

Base MSRP

 

$

37,950

 

$

43,000

 

Horsepower

 

268

HP

 

248

HP

 

City Estimated MPG:

 

2

3

MPG

 

25

MPG

 

Highway Estimated MPG:

 

2

9

MPG

 

29

MPG