2022 INFINITI QX55 and 2022 INFINITI QX50 Comparison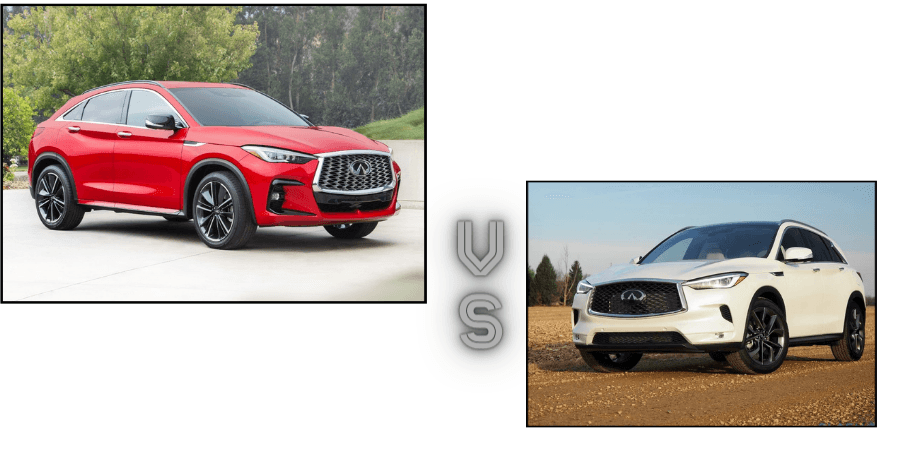 Comparison Between the 2022 INFINITI QX55 and the INFINITI QX50
The 2022 INFINITI QX55 has reintroduced the concept of the crossover coupe to the masses. As such, it offers unique driving elements compared to other excellent INFINITI models such as the traditional QX50 crossover.  The most notable difference that drivers will appreciate in the QX55 is the inclusion of a new torque converter and a retuned transmission. These combine to provide the engine with more power when the driver requires it, but also more efficient when a more leisurely ride is desired.  In terms of trim options, the INFINITI QX50 comes with a unique base trim, the PURE. The base trim for the QX55 is the upgraded LUXE model found in the QX50 catalog of options. Therefore, the base QX55 offers a similar level of interactivity and comfort as the QX50 with some upgrades.  
The reintroduced style of the 2022 INFINITI QX55 gives drivers looking for a way to stand out from the rest of the crowd a new option to choose from. Its sleek shape is desirable in the fact that there is no other body style like it on the market today. When comparing the body style to the equally stylish QX50, drivers will note they are operating a slightly smaller vehicle with the QX55. The angles and contours of the QX55 result in a slightly lesser amount of interior space compared to the QX50. However, it is still more than spacious enough to seat all passengers with plenty of room to stretch in. Most interior features remain the same between the two crossover options in the INFINITI lineup. One exception is the inclusion of an accent bar that encapsulates the perimeter of the interior, as well as the sport seating to give the QX55 a distinct feel from the QX50.  
Choose Mike Ward INFINITI for the 2022 INFINITI QX55 
Denver Metro drivers interested in owning a vehicle designed to turn heads on the road should strongly consider purchasing or leasing either the new 2022 INFINITI QX55 or the INFINITI QX50. Built with the same attention to detail in luxury and performance as the QX50, the QX55 does it all with the new crossover coupe style. Stop by Mike Ward INFINITI in Highlands Ranch, CO today to speak with a sales associate about how we can get you behind the wheel of a QX55 or equally impressive QX50.