2022 INFINITI Q60 vs 2022 Jaguar XF Coupe in Colorado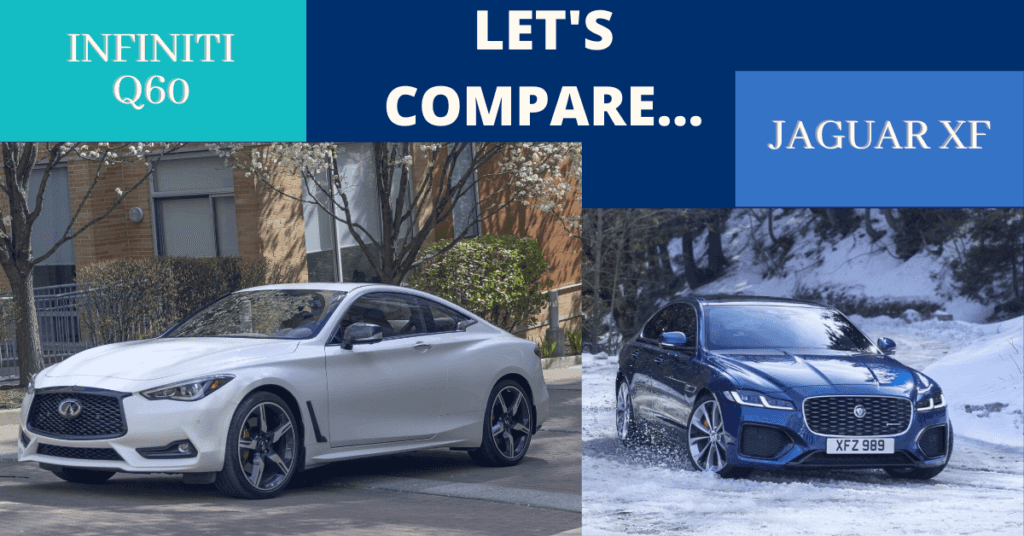 2022 INFINITI Q60 vs 2022 Jaguar XF
The deluxe coupe market is a competitive one full of luxurious and high-performance options. Standing apart from the rest is the stylish 2022 INFINITI Q60. Equipped with a powerful engine and an interior that exemplifies fine driving, the Q60 makes any Colorado trip feel upscale. INFINITI models are regarded for their blend of power and elegance. Competitors such as the 2022 Jaguar XF attempt to provide drivers with a similar overall luxury ride as the Q60. However, they fail to capture the complete package of the Q60.  
Performance
Fitted with a twin-turbocharged 3.0L V6 engine, the 2022 INFINITI Q60 makes every bit of performance feel impactful. Generating an impressive 300 horsepower from the base level, the Q60 zips around town or the highway with an energetic roar as the accelerator is pressed. Comparatively, the 2022 Jaguar XF is equipped with a much smaller 2.0L turbocharged four-cylinder engine. Reaching only 246 horsepower, the responsiveness of the XF is not as exhilarating as it is in the Q60. The Q60 is equipped with a seven-speed automatic transmission, while the XF has an eight-speed automatic transmission. Both coupes come with standard RWD and can be equipped with AWD.  
Interior Features
Premium interior quality helps make the 2022 INFINITI Q60 a competitive member of the top-end coupe market. Compared to more expensive options such as the Jaguar XF, the Q60 also comes equipped with similar comfort technology such as standard heated front seating. The Q60 does go one step further and adds a standard heated steering wheel into every model to maximize cold weather driving enjoyment. Both coupes showcase their standing as top vehicles for infotainment purposes. Apple CarPlay and Android Auto are standard on both coupes to provide diverse smartphone connection options for applicable devices. SiriusXM® radio is also standard on the Q60 and the XF to deliver numerous entertainment channels for optimal enjoyment.  
Safety Features
Comprehensive driver-assistance technology systems are standard on both the 2022 Q60 and the 2022 XF. Features such as Electronic Stability Control and Traction Control are present to amplify the handling capabilities of both sporty coupes. When coupled with the AWD versions of the vehicles, confident driving in virtually any weather or road condition is possible. Additionally, standard systems such as individual versions of Forward Collision Warning help make the Q60 and the XF quality options for staying safe while navigating around town.  
Learn More About the 2022 INFINITI Q60 at Mike Ward INFINITI
Driving around Colorado in the gorgeous and dynamic 2022 INFINITI Q60 is a revolutionary experience. Mike Ward INFINITI in Highlands Ranch, CO, is ready to help you get behind the wheel of this magnificent coupe. Visit us today and speak with a member of our knowledgeable sales team about how we can find the model of 2022 Q60 that will fit your preferences best.  
 

2022 INFINITI Q60

    

2022 Jaguar XF

 

Base MSRP

 

$41,750

 

$46,450

 

Horsepower

 

300 HP

 

246 HP

 

City Estimated MPG:

 

19 MPG

 

25 MPG

 

Highway Estimated MPG:  

 

28 MPG

 

33 MPG