2022 INFINITI Q60 vs 2022 BMW 2-Series Coupes in Colorado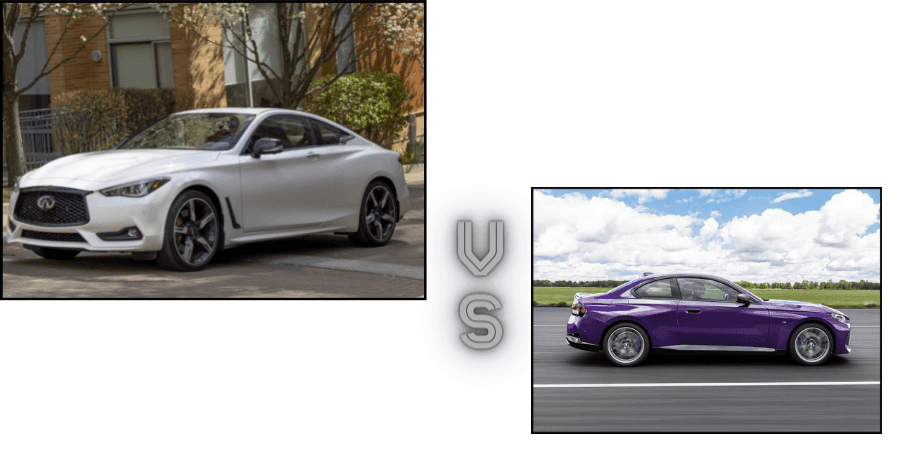 2022 INFINITI Q60 vs 2022 BMW 2-Series
High-end coupes like the 2022 INFINITI Q60 make cruising around Colorado an experience that today's customers crave. Opulence and superior performance have been trademarks of the Q60 since its creation, and the 2022 model year continues to push the boundaries of INFINITI ingenuity. BMW is another brand known for elite coupes like the 2022 BMW 2-Series. However, this coupe lacks the overall performance and exclusive feel that the INFINITI delivers to its driver and passengers.  
Performance
Right from the start, the 2022 INFINITI Q60 showcases how it outperforms the 2022 BMW 2-Series. Packing a 3.0L V6 twin-turbocharged engine in the Q60 compared to the 2.0L twin-turbocharged engine in the 2-Series, INFINITI stakes its claim as a performance luxury vehicle. The INFINITI delivers 300 horsepower of pure exhilaration through a responsive seven-speed transmission. Meanwhile, the BMW 2-Series offers 255 horsepower that is channeled through an eight-speed sport automatic transmission. The standard models of both coupes are equipped standard with RWD. If more all-season handling performance is needed, both have select trims that can be equipped with AWD instead.  
Interior Features
For customers who demand premium comfort that lasts all year long, they will find that the 2022 INFINITI Q60 caters to them in every trim level. Unlike the standard version of the 2022 BMW 2-Series, standard heated functionality is present in both the front seating and the steering wheel. Every passenger of the Q60 will also find that they have satisfying levels of space to comfortably move around in while on longer journeys. In terms of infotainment technology, the INFINITI comes with standard SiriusXM® radio while the BMW does not. Both coupes offer integrated Wi-Fi® hotspots to solidify their immersive natures.  
Safety Features
When it comes to keeping passengers safe, both INFINITI and BMW are well-regarded for their attention to detail. Both coupes have standard driver-assistance technology that customers can count on in a variety of situations. These include Forward Collision Warning to help monitor the road in front of the vehicles. The Q60 and the BMW 2-Series are also equipped with versions of Electronic Stability Control to help keep drivers in command of their vehicle while taking on more extensive handling maneuvers.  
Learn More About the 2022 INFINITI Q60 at Mike Ward INFINITI
A premium coupe for a premium customer, the 2022 INFINITI Q60 is a high-quality option if you are seeking an opulent addition to your daily trips. Mike Ward INFINITI in Highlands Ranch, CO, would love to help find the trim level and additional options that will perfectly personalize your Q60. Stop by today and see why our sales team is well-regarded and trusted in the Denver Metro region!  
 

2022 INFINITI Q60  

 

2022 BMW 2-Series

 

Base MSRP

 

$41,750

 

$36,350

 

Horsepower

 

300 HP

 

255 HP

 

City Estimated MPG:

 

19 MPG

 

26 MPG

 

Highway Estimated MPG:

   

28 MPG

 

35 MPG